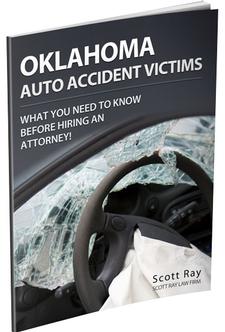 Are you ready to take a gamble on your future?
That is what you may be doing if you trust the insurance company to give you a fair settlement after an Oklahoma car or truck wreck.
At the Scott Ray Law Firm we want auto accident victims in Oklahoma to know their rights and protect themselves from the insurance company. We feel so strongly about this that we wrote the book
OKLAHOMA AUTOMOBILE ACCIDENT VICTIMS: What You Need to Know Before Hiring an Attorney
, and we want to give it to you FOR FREE.
The book contains information like:
What you need to know about mandatory liability insurance and uninsured motorist coverage
The BIG MYTHS about auto accident cases
Hidden dangers and traps waiting for the unsuspecting accident victim
Health insurance and medical payment scams
...and much, much more!
All you have to do is fill out the form below to request your FREE copy: